AkabeiSoft2 - Sharin no Kuni, Himawari no Shoujo [English patch]
Artist:
AkabeiSoft2/TLWiki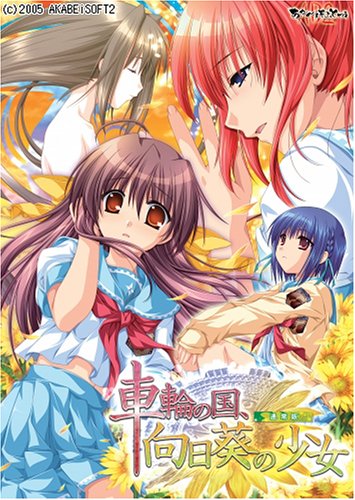 Year of release: 2005
Genre: Visual Novel
Age restrictions: 18+

Developer: AkabeiSoft2
Platform: PC
Edition type: license
Interface language: English (patch)
T
abletka: is present
Censorship: is present

System requirements:
The supported OS: Windows 98,2000,XP
Processor frequency: Pentium 800 MHz
Volume of random access memory: 256MB
The videocard supporting the mode 800x600

In the near future.

In a not so distant place.

There exists a society where law is based upon deterrence and criminals are assigned "obligations" fitting for their crimes.

Within this society, a man named Morita Kenichi aspires to the position of Special High Class Individual, one who holds authority over said criminals.

For the purpose of fulfilling his ambition, Kenichi returns to the town he once called home. There he will encounter three girls bearing "obligations" and there he will encounter the past he left behind.

Won't you join him in this story about how people relate to their society?

In this story about how a society relates to its people.

In this story about the girl amid the sunflowers growing in the country spinning like a wheel.

Contents:
Image of game in the iso+mds format
NoDVD (In general, NoDVD is established together with an English patch)
Version 1.01 patch
Audio of CD in the cdi format
Tracks of Audio of CD (Japanese names)
The additional disk in the bin+cue format, contains wall-paper, some sketches, and 4 heads of a nekhentayny manga on Japanese.

Add:
Without English patch game is started ONLY from a Japanese locale. For start of game with an English patch it is required to start it through MS Applocale or the similar program.
For avoidance of the conflicts of an English patch and an official patch 1.02, it is better not to put them together (both patches are established as the patch.xp3 file), or to rename the file of an English patch into patch2.xp3, but thus that there will be no glitches all the same isn't guaranteed.